---
General Remarks
Legal Requirements
The author(s) guarantee(s) that the manuscript will not be published elsewhere in any language without the consent of the copyright holders, that the rights of third parties will not be violated, and that the publisher will not be held legally responsible should there be any claims for compensation.
Authors wishing to include figures or text passages that have already been published elsewhere are required to obtain permission from the copyright holder(s) and to include evidence that such permission has been granted when submitting their papers. Any material received without such evidence will be assumed to originate from the authors.
Manuscripts must be accompanied by the "Copyright Transfer Statement" which Springer will provide together with the proof version of your manuscript.
Scope
Mine Water and the Environment welcomes original contributions that address either technical questions or practical issues related to the evaluation, prediction, prevention, or control of water problems at mining operations or their impact on the environment. The journal and its audience are interdisciplinary. Manuscripts should convey new information and be of potential interest to researchers and/or practitioners in this field. Laboratory and field experiments, modeling efforts, studies of relevant field sites, technical evaluations of new technology, and engineering applications are all appropriate.
Papers may be submitted in one of two formats. Generally, researchers will prefer to submit manuscripts that will be edited and peer reviewed; authors of such manuscripts will receive the reviewers' comments and be given the opportunity to address them before a final decision is made regarding publication. Alternatively, contributors can submit (generally) shorter manuscripts to quickly convey information to others in the field. Limited case studies, field trials, or new developments by the mining industry and details of new methods, techniques, or technology will be appropriate for this format. These manuscripts will be referred to as technical communications, and will be edited but not peer-reviewed; the editors alone will decide if the manuscripts are appropriate for publication in this journal. This format should provide a forum for practitioners and others in the field to let people know of their successes and failures, and for researchers to share their results quickly or to publish studies that are not as comprehensive as might be expected in a peer reviewed text. Technical communications are not intended to serve as advertisements. Authors who step over this boundary will be asked to modify the manuscript or to pay the appropriate page charges and have their text appropriately labeled.
Dr. Bob Kleinmann
2737 Beechwood Boulevard
Pittsburgh, PA, USA 15217
E-mail: This e-mail address is being protected from spambots. You need JavaScript enabled to view it
There are no page charges for technical contributions. Individuals who wish to become members of IMWA should contact the IMWA Secretariat, phone: +1 303 969-8033; fax: +1 888 611-7938; e-mail: This e-mail address is being protected from spambots. You need JavaScript enabled to view it ; 130 West 4th Avenue; Denver, CO 80223; USA. Personal Membership costs 50 € since 2013, which includes a free subscription to this journal. A copy of the application form and more information about IMWA is available here.
Submission of Manuscripts
Mine Water and the Environment accepts only submission of manuscripts submitted electronically, preferably in Microsoft Word format. Please make sure you save the file with your fonts included (click here for details). A signed hard copy of the "Copyright Transfer Statement" must be mailed, faxed, or scanned and electronically transmitted to the Publisher once you receive your proof. Manuscripts must be uploaded to IMWA's Editorial Manager web site at http://www.MWEN.info/em
The editors will attempt to correct errors of style and grammar before manuscripts are sent out for peer review. This, in turn, should enable the reviewers to concentrate on content and technical validity. Authors are encouraged to have their colleagues review their paper before it is submitted to the journal. The format of the manuscript should apply to the requirements of this journal. Names and e-mail addresses of appropriate reviewers who have not already seen a draft of the paper should be provided during the upload process.
It is the submitting author's responsibility to ensure that all other authors have approved the manuscript before submission. Generally, papers submitted should not have been published or have been submitted for publication elsewhere, but exceptions will be made for papers published in venues generally unavailable to most of the readers of this journal. Examples would include papers presented at conferences that generally only distribute the proceedings to attendees, papers published in a language other than English, or papers published in a generally unrelated field. However, in such cases, the author(s) must retain the copyright and thus have the legal right to republish it in this journal.
You can also submit supplementary electronic material in any format you wish.
Format of the Journal
Recommendations
Authors are strongly encouraged to follow the instructions provided below and in the FAQ. All papers must be submitted in English, using either American or British spellings. The editors will assist authors with English spelling and grammar and Springer offers a commercial translation service. The editors reserve the right to modify the text to improve grammar, adjust style, reduce verbiage, and maintain uniform standards prior to sending the manuscripts out for peer review, but will not make substantive changes without the approval of the submitting author.
The length of the papers will vary, depending on what is needed to describe and interpret the work clearly and concisely. In general, papers should be written concisely in the past tense, and should generally not exceed 20 typed pages (≈ 5000 words). Use the Times New Roman or Cambria 11 point font. Italics and boldface fonts may be used, if desired. If Imperial units (such as feet, inch, gallons) are used, equivalent SI units must be provided in parentheses. Do not write the long name of the SI units in addition to the appropriate short version. Furthermore, indicate decimal points with periods rather than commas.
Do not use footnotes. Please format your document as A4 size, with 1.7 cm margins on the top, left and right side and 3.7 cm at the bottom. Use one column text format. Avoid empty lines between paragraphs, rather use the paragraph formatting tool of your text processor (e.g. Microsoft Word, OpenOffice).
Titles should be concise and informative. Affiliations and full addresses must be provided for all authors. In addition, the e-mail address, telephone, and fax numbers of the communicating author should be provided. Each paper should be provided with a results-oriented abstract of no more than 250 words. Include four to six key words including geographical region taken from the GeoRef Thesaurus. Do not repeat words you already have in your manuscript's title.
Generally, two levels of headings are used. Main headings are left justified and in bold type and are separated from the text above by a 12 Pt. line spacing. The heading is not underlined. No heading numbering system is used. Sub-headings are similar except that they are not in bold type. All headings are in "Title Case", that is, with a capital letter at the start of each word except short articles and conjunctions like "a", "the" and "and". If a third level of heading is required, it should be italicised, with only the initial letter of the initial word capitalized.
The publisher will convert the manuscript into the journal's two-column format after all of the revisions have been made. To facilitate this, figures and tables should be sized to fit within an 8.4 cm (3.31 inch) column whenever possible. Figures and tables that cannot fit within a single column should not exceed a width of 17.4 cm (6.85 inch). The maximum length is 22.9 cm (9.02 inch).
Figures, tables, and their captons must be submitted seperate from the text file. Do not include figures or tables in your text! In addition, don't use your word processor's auto numbering tool as this might get messed up during the editorial process. Before you submit your manuscript make sure that all internal numbering, hyperlinks, and internal references are converted to plain text (e.g. in Microsoft Word press STR+SHIFT+F9 to remove all such links).
Introductions should be written with the understanding that the readers of this journal are already very familiar with the basic aspects of mine hydrology, mine water treatment (both active and passive), and how acid drainage forms. You should not explain the oxidation of pyrite and formation of acidity in your paper's introduction; we all know how that process works. If your paper addresses certain aspects of the field and you feel that it is important to briefly address the basics, do it in one sentence and a couple of citations to the literature. For example: "It is commonly accepted that acid rock generation is caused by the oxidation of pyrite (Singer and Stumm 1970; Stumm and Morgan 1996). However, recently, we …"
Our Editors will very likely delete sections explaining concepts that 99% of our readers already know. They will also delete redundant material. We do this to make the papers more readable and interesting and to create space in the journal for more papers. Save yourself and the Editors effort and submit the papers without such unnecessary text.
Tables
Table 1. Scan and image quality for our journal
| | | | |
| --- | --- | --- | --- |
| Original | Image mode | Resolution | Format |
| Monotone illustration (photo/transparency) | Grayscale (8 bits) | 300 dpi | TIFF in RGB format |
| Colour illustration (photo/transparency) | RGB or CMYK (24 bits) | 300 dpi | TIFF in RGB format |
| Black/white line drawing | Line | 800—1200 dpi | EPS |
Tables are similarly incorporated into the text at the first convenient location after the table is referenced. There should be a title above the table (see Table 1 as an example) and an explanation of any abbreviations used in that table. Footnotes to the table should be indicated by superscript lower-case letters (or asterisks for significance values and other statistical data). As a general rule, tables should have only three lines: above and under the title line and at the table's end. Avoid vertical lines.
Figures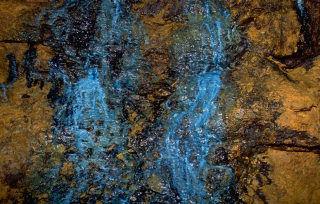 Figure 1. Mine water precipitates in a flooded German underground mine. Width: 50 cm.
Equations
Equations are often difficult to reproduce in text, due to the variety of software used to create them. Yet, you should include them in the text. Equations should be centred, and if a series of equations are provided, sequentially numbered on the right hand side of the page.
References
References in the text are cited as Caruccio and Geidel (1984) or (Caruccio and Geidel 1984). There is no comma between the author's name and the year! A series of references in the text should appear in alphabetical order. References having three or more authors are cited: Gammons et al. (2000). References by the same author(s) in the same year should be distinguished by letters (e.g. Smith 1990a or 1990a,b). Personal communications should be cited in the text but not listed in the reference section. At the end of the paper, references are listed alphabetically. Avoid internet resources, but provide DOIs whenever possible. Please make sure that journals' titles are correctly abbreviated as described on the ISSN web page here.
Examples
Brown MC, Wigley TC, Ford, DC (1969) Water budget studies in karst aquifers. J Hydrology 9:113—116. doi:10.1016/0022-1694(69)90018-3
Caruccio FT, Geidel G (1984) Induced alkaline recharge zones to mitigate acidic seeps. In: Groves DH, DeVere RW (Eds), 1984 Symp of Surface Mining, Hydrology, Sedimentology and Reclamation, Univ of Kentucky, p 27—36
Gammons CH, Mulholland TP, Frandsen AK (2000) A comparison of filtered vs. unfiltered metal concentrations in treatment wetlands. Mine Water Environ 19(2):111—123. doi:10.1007/BF02687259
Wolkersdorfer C (2008) Water Management at Abandoned Flooded Underground Mines – Fundamentals, Tracer Tests, Modelling, Water Treatment. Springer, Berlin
Use of generally understood abbreviations, such as Univ., Vol. p., is encouraged and periods may be omitted if the meaning is clear without them (e.g. Symp). Supply preprints of any article listed as being "in press".
Illustrations
General
Send us the illustrations as seperate files in the file formats described below. Illustrations made with the graphic tools of your word processor (e.g. MS Graph) can not be used in a high quality editorial and printing process.
Size and File Types
Basically, there are two types of graphs: pixel graphs and line graphs (also referred to as vector graphs). Pixel graphs are used for photographic images, whilst vector graphs are used for drawings or graphs that zu make on your computer. Convert all your pixel graphs into uncompressed TIFF files and all your vector graphs into EPS or PDF files.
Before you include your graph in the manuscript, crop all white space around your graph. Please don't use JPG-Format, as those graphs usually reproduce poorly! One column graphs at a 300 dpi resolution need at least 1,000 pixels width. We do not accept graphs with a width below 1000 pixels. TIFF files need the resolutions listed in Table 1. Please check that your original, after scaling, has the resolution values in the table; only then will the print quality of the scan or image be sufficient. Suitable image processing programs are: Photoshop, Picture Publisher, Photo Paint, and Paint Shop Pro.
Vector graphs exported from a drawing program should be stored in EPS (Encapsulated Post Script with preview) or PDF (Portable Document Format with fonts inbedded) format. Fonts used in the graphics must either be inbedded or converted to outlines (command: Convert text objects [fonts] to path outlines). Please do not draw with hairlines. The minimum line width is 0.2 mm (i.e. 0.6 pt) measured at the final scale. Suitable drawing programs are: Corel Draw, Adobe Illustrator, Freehand (Macromedia), Open Office Draw, or Inkscape.
Formating your Graphs
Do not frame your graphics and legends and do not draw with hairlines (minimum line width is 0.2 mm; i.e. 0.6 pt). Remove all horizontal and vertical grid lines.
Colours
Figures can be submitted in black and white or colour. There are no additional charges for the latter
Acknowledgments
Acknowledgments of e.g. people, grants, funds should be placed in a separate section before the reference list. The names of funding organizations should be written in full.
Free e-copy
1 e-copy of the paper is supplied to the communicating author.